It's Funny how someone can break your heart, yet you still love them with all your pieces <3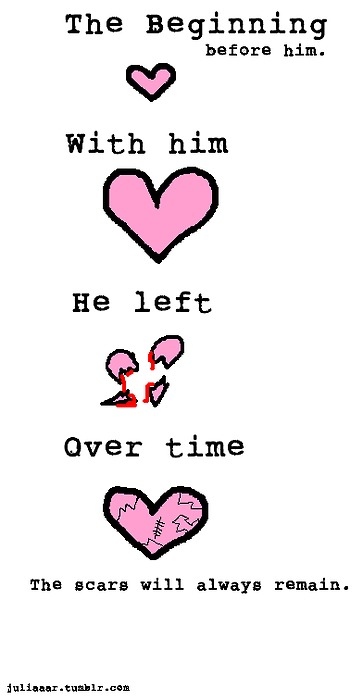 Break-ups aren't simple, easy or digestible for any of us. Not going into details of my experience let's understand what is the easy way to deal with it.
You were together and so love, affection and attachment- all this is natural. But when you break-up pain and anger become dominant. These feelings don't have to be controlled but need a better mode of expression.
Burn, throw and delete
You might think this is childish but it is the best thing to do. Delete the mails, burn the letters and those little notes and give away/throw away those gifts. This might sound harsh but do it anyways.
Unfriend, unfollow and block
You might be okay to see them later but not now. Now you need detachment. Social media detachment is super important because you don't need to stay 'updated' anymore. It is best to block all their info for a while (atleast).
Read, party and enjoy your 'Freedom'
Remember how you used to crib that you don't get much time for yourself. Now there is surely and empty slot you can utilize for yourself. So why not! Go for it, and enjoy your freedom.
Sulking is a no-no
This is life and whatever happens happens. There
isn't
any point in sitting and sulking, crying, sobbing, shouting, feeling guilty ah..all those negative feelings. Go out with friends, meditate, exercise and #BeBetter
A little pool of tears and ah why did I love too much is okay
Yeah, I mean you cannot be totally 'normal', after all this is not how you imagined it would be. Be sad for a while and cry a little if you want.
And when nothing works…
Punch them on face and get some ice-cream
No! Would you do that? If it makes you feel good you should do that. Then again it is your choice, but I'll love to know.. would you do that??!!
Break-ups aren't easy but life moves on and it is better to look forward then to look back and cry
J
When the past calls, let it go to the voice mail. It anyways
doesn't
have anything new to say.
Remember two things:
"You need to kiss thousand frogs to find a prince!"
"When the time is right, the right things just happen."
Perfect song to end this: